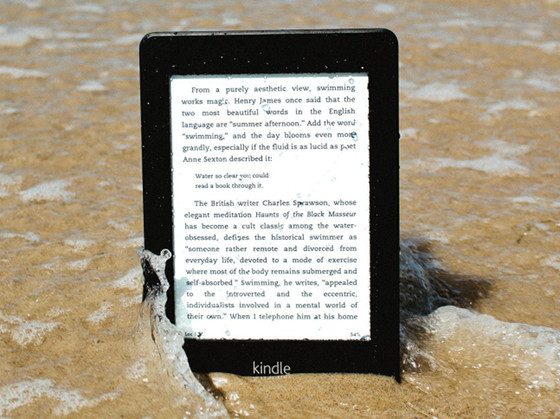 A few days ago we were talking about the possibility of Amazon finally releasing a Kindle with a larger screen now that the Kobo Aura One has made 7.8-inch E Ink screens popular.
But what about a waterproof Kindle? That's another feature that Kobo offers but Amazon does not.
In fact Kindles are lagging way behind in that regard.
Kobo has been selling a waterproof model since 2014 with the Kobo Aura H2O, and the Aura One is also waterproof.
The Nook GlowLight Plus that Barnes and Noble released in 2015 is waterproof too.
Even smaller companies like Pocketbook offer a waterproof ereader.
So why is Amazon the only one not offering a Kindle that can withstand a trip to the beach, the sauna, a bathtub or pool?
Currently the only way to get a water-resilient Kindle is to buy one from a third-party company called Waterfi. They sell aftermarket Kindles that have been waterproofed, but they cost about $100 more than the regular models.
It seems kind of silly to spend that much extra when refurbished waterproof Nooks sell for only $79.
It's about time that Amazon came out with their own waterproof Kindle, and they might as well make one with a 7.8-inch screen while they're at it…