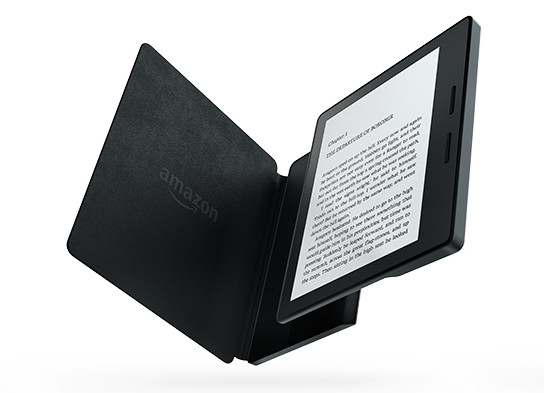 Last year around April Amazon surprised everyone with the release of the Kindle Oasis.
To start with Amazon had never released a new Kindle that early in the year before so no one was expecting it.
But the biggest surprise with the Kindle Oasis was the new design idea that places most of its battery in a detachable cover.
You can remove the cover while reading to lower the overall weight of the device, then put it back on in between reading sessions to recharge the Kindle's small internal battery.
The Kindle Oasis is the only ereader with a charging cover, but will it be the last?
Lots of people don't like the added expense of the charging cover for the Kindle Oasis. It basically adds $90 to the price, and that alone is almost as much as the Kindle Paperwhite when it goes on sale.
But other people like the concept of the charging cover. It helps make the Kindle remain thinner and lighter, and the cover's larger battery can help make the device last for up to 8 weeks per charge, making it the Kindle with the longest battery life.
It makes you wonder if future Kindles will come with charging covers as well or if the Kindle Oasis is going to be unique in that regard.
It wouldn't be surprising if Amazon patented the concept so other companies can't offer ereaders with charging covers even if they wanted to.
Personally I'm not a big fan of the charging cover idea. First off it severally restricts your choice of covers down to three colors, and then if you happen to lose or misplace the cover you suddenly have a super expensive Kindle with an internal battery that can only last a few hours per charge.
What about you? Would you like to see more Kindles or other ebook readers get released with charging covers?