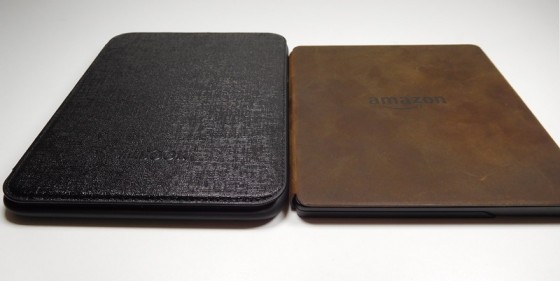 Amazon changed things up with the release of the Kindle Oasis by including a leather charging cover with every purchase.
The cover is included with the Kindle Oasis because it is a vital part of the equation. Amazon essentially took most of the battery out of the Kindle and put it in the cover in order to make the Oasis as light as possible.
The cover is designed so that you can easily take it on and off, or you can also just leave it on all the time if you want.
For the most part the cover is meant to be taken off while reading to take advantage of the Kindle Oasis's unique shifted design that makes it feel extra light.
With the cover on and folded back the Kindle Oasis feels more like a regular ereader.
The cover adds thickness and weight to the left side so you can hold the Oasis from the smaller side if you want, or flip it over to use the buttons.
The cover is held in place by magnets. All you have to do is basically set the Kindle Oasis on the cover and it shifts into place automatically.
The cover fits into the Oasis's curved design so it doesn't cover the entire back of the device. The front of the cover is a thin flap that is also held in place by magnets both on the front and when it's folded back. There's an Amazon logo on the front and on the inside, and of course it has the automatic sleep/wake feature.
The cover charges via the Kindle; it doesn't have it's own charging port. Then the cover keeps the Kindle charged whenever the two are connected.
When the cover is connected a battery percentage meter appears on the quick settings menu that shows the charge of the cover and the Kindle.
Overall the Kindle Oasis's cover is surprisingly small and the battery doesn't add as much weight as you'd think. The cover weighs 3.8 ounces (107 grams) and it comes in three colors—walnut, merlot, and black.
On the plus side the cover doesn't add much bulk but it also doesn't provide very much protection. You almost need a second heavier-duty case for travelling and such. I wouldn't feel very confident in the charging cover protecting the Kindle in a bag or purse with other items jostling around.
In the video below I show how the slim Kindle Oasis cover compares with the Kindle Paperwhite in a leather Noreve cover. They are at the opposite ends of the spectrum. The Paperwhite's cover is thicker than average so I included the picture above against the inkBook Obsidian with it's tight-fit cover. The Oasis still looks pretty tiny by comparison.
Update: Here's the link to my full Kindle Oasis review for more details about the device.
Video Review: Kindle Oasis Charging Cover