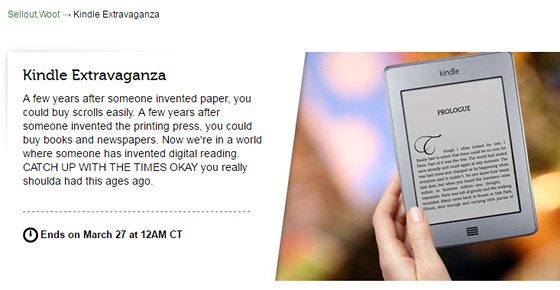 Once again Amazon having another 1-day only sale on select Kindle ebooks for one of their main deals of the day.
They've been offering a list of discounted Kindle ebooks every Sunday lately and today is no exception.
This time the deal includes standout Kindle reads for $3.99 or less.
There are 21 ebooks on the list, and most have a high rating with lots of reviews so they're worth checking out.
In other deals news, the refurbished Kindle Paperwhite remains on sale for $85. That's $35 less than the price of a new one.
If you want to get an older Kindle or a Fire tablet for cheap, they're having another Kindle Extravaganza sale at Woot. It's a 1-day only sale that includes refurbished units.
Here's the list of Woot deals:
Kindle Touch with 3G – $24.99
Kindle Fire HD 7 (2nd gen) – $29.99-$34.99
Kindle Fire HD 7 – $34.99
Kindle Fire HDX 7 – $49.99-$59.99