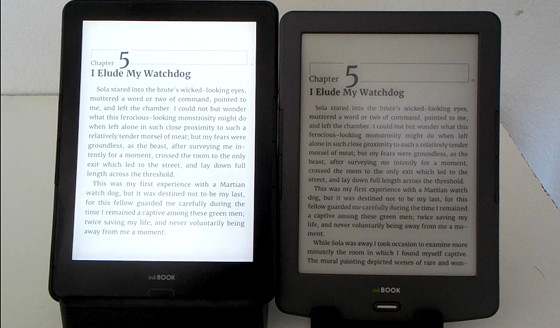 Arta Tech recently released two new Android-based ebook readers, the InkBook Prime and the InkBook Classic 2, and they sent them over for me to review.
Both have 6-inch E Ink screens and the two models are somewhat similar to the entry-level Kindle and the Kindle Paperwhite, especially in terms of price.
The InkBook Classic 2 is the less expensive version. Like the entry-level Kindle it has a lower resolution 800 x 600 E Ink screen and no frontlight.
The InkBook Prime adds a higher resolution 1024 x 768 screen, a frontlight, more storage space, an auto sleep/wake sensor, a faster processor, and Bluetooth.
From a software standpoint the two InkBooks are nearly identical.
They both run Android 4.2.2 and can install Android apps. Google Play is not included; there's a small built-in appstore instead.
They both feature the same design and overall dimensions, and both have capacitive touchscreens with the option to disable the touchscreen to avoid accidental presses. The main difference is the InkBook Prime has a flush glass screen, with a sensor button below the screen, whereas the InkBook Classic has an indented screen with a physical button below the screen.
Both devices also sport dual page turn buttons on each side of the screen, and you can custom map different functions to the page buttons, which is really nice.
One difference with the InkBook Prime is they say it has a quad-core 1.6 GHz processor—that's a first. The Classic 2 has a dual-core processor instead but the wierd thing is they both navigate menus and turn pages in ebooks at the exact same speed. However, the Prime does turn pages quite a bit faster with PDFs.
As far as storage space, the Classic has 4GB and the Prime has 8GB. Both have a microSD card slot for cards up to 32GB.
One of the advantages with the InkBook Prime is the addition of Bluetooth for things like headphones and keyboards.
Another minor difference is the Prime has an auto wake/sleep sensor and the Classic does not.
Check back later in the week for full reviews and video walkthroughs of these two InkBooks. For now here's a video comparison outlining the similarities and differences between the two models. I also added a video showing the Kindle app in action on the post from yesterday.
InkBook Prime vs InkBook Classic 2 Comparison Video