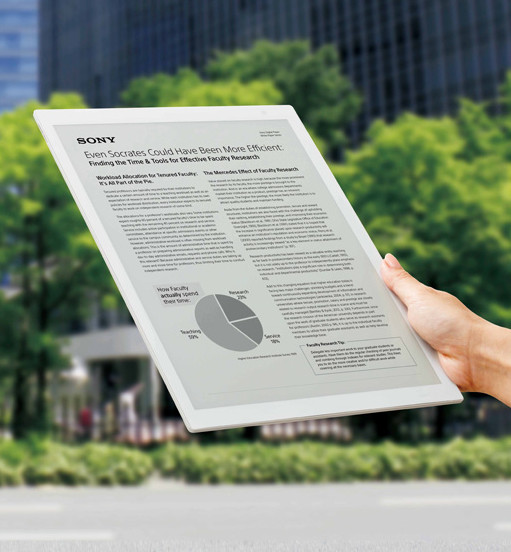 Last fall Sony discontinued their 1st generation specialized E Ink PDF reader, the DPT-S1, and now they've announced that a newer model is going to be getting released this summer.
The new Digital Paper DPT-RP1 is a lot like the 1st gen model, but it adds a higher resolution 2200 x 1650 screen, a faster processor, an NFC unlock feature, more internal storage space, and a more sensitive stylus pen.
It looks like they've done away with the memory card slot, but now it comes with 16GB of internal storage space instead of 4.
They're using a Marvell IAP140 quad-core processor so it will be interesting to see how that improves performance.
The weight is about the same as the DPT-S1; it's just a few grams lighter at 349 grams.
Once again the device only supports PDF format, like the 1st gen model, so that severely limits its usefulness. But it looks like they've added a cool side-by-side feature that lets you view a PDF on one half of the screen while writing notes on the other half.
The new Onyx Boox Max Carta has the same upgraded screen along with expandable memory and it supports open Android and a ton of formats and apps, so it's going to be strong competition for Sony.
Currently the new DPT-RP1 is listed on the Sony Japan website.
The release date is set for June 5th, but it'll probably be awhile before it starts becoming more widely available outside of Japan.
Personally I don't quite understand the need for these super-expensive 13.3-inch ereaders when PDFs are perfectly readable on a 10-inch E Ink screen that costs half as much. Sony should consider releasing a less-expensive 10-inch model as well to reach a wider market instead of just wealthy businessmen.