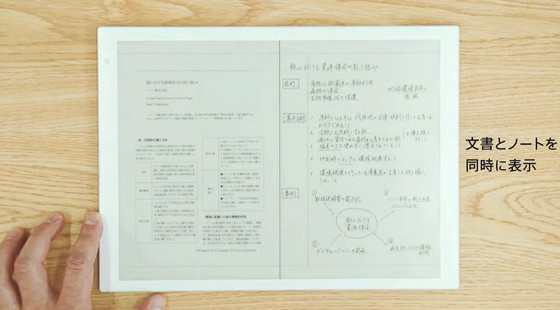 Sony Japan uploaded a teaser video on YouTube showing their recently-unveiled 2nd generation PDF ereader, the DPT-RP1.
It's a specialized device with a 13.3-inch E Ink screen that is very lightweight and durable thanks to a plastic substrate instead of the usual glass.
It has a higher resolution screen than the 1st gen model and they added a faster processor and a more accurate stylus pen, among other upgrades.
The responsiveness looks pretty quick in the video with the new processor and the stylus looks like it's easy to write small text accurately and seems more like writing with a pen and paper.
In fact at one point they show a full page of handwritten notes that looks just like a regular notepad.
They also show the new NFC unlock feature to turn the device on by swiping a card or smartphone over a sensor.
Two page mode looks interesting where you can view a PDF page on one side of the screen and have a notes page open on the other side at the same time.
The video starts out a bit slow to get to the point but it gets better about halfway through where they start to show some of the features and how the software works.
The new Sony DPT-RP1 is expected to get released at the beginning of June (in Japan).
First Look at Sony DPT-RP1