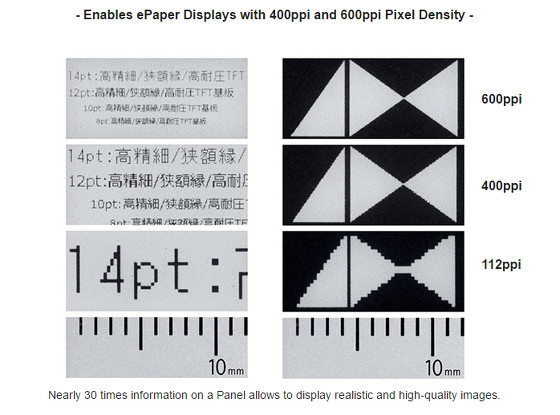 Yesterday Japan Display announced plans to develop higher resolution epaper displays through a recent partnership with E Ink Holdings, makers of E Ink screens.
With resolutions of 400 ppi (pixels per inch) and 600 ppi, the new backplanes that Japan Display has developed are the highest resolution epaper displays in the world, they claim.
Current E Ink ebook readers like Kindles and Kobos top out at 300 ppi.
Entry-level models like the $79 Kindle have lower resolution 167 ppi screens, and the difference is fairly considerable.
The higher resolution E Ink screens make text appear sharper and clearer, along with helping the text look a bit darker.
The one downside with higher resolution E Ink screens is they tend to use more battery power, which kind of defeats one of the main advantages of E Ink.
For example, when Amazon released the Kindle Paperwhite with a 300 ppi E Ink screen, the battery life estimates went from up to 8 weeks to up to 6 weeks, a drop of 25%. And that was only going from 212 to 300 ppi. How much worse would battery life be with a jump up to 400 or even 600 ppi?
Personally I'm skeptical about the usefulness of such high resolution screens when it comes to ebook readers. I doubt the increase in resolution would be perceptually significant enough to justify the drop in battery life and overall performance, but it would be interesting to see the screens in person to find out.
Here's a quote from the press release that explains Japan Display's intentions for the new higher resolution screens:
JDI's goal in developing its latest ePaper backplane is for ePaper to empower not only high resolution and battery-powered devices such as eBooks, smartphones and tablets, but also future devices for the "Internet-of-Things" (IoT).
It sounds like ebook readers are definitely one of the main target sources for the higher resolution screens, especially with phones and tablets being such a small part of the market for E Ink screens.