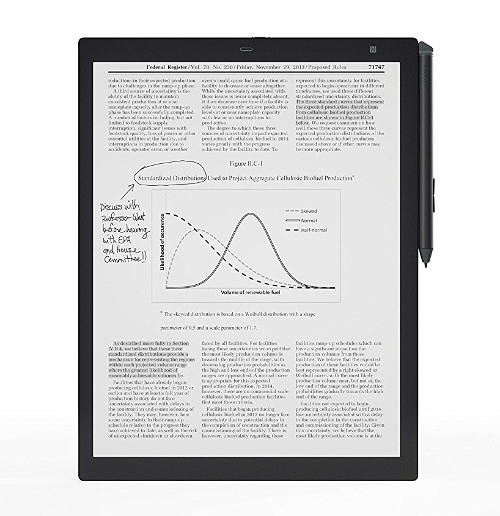 Sony's second generation 13.3-inch E Ink PDF ereader gets released in June. Up until now it's only been shown as available in Japan, but now Sony has started accepting pre-orders for the new DPT-RP1 in the United States.
Both Amazon and B&H have the new Sony listed to pre-order for $699, with the release date set for June 20th. B&H ships internationally too so that should open the door to people in other countries as well.
Sony also has a new page for the DPT-RP1 on their US website with more information about it.
The price isn't too bad considering all the upgrades from the 1st gen model, which sold for $1100 when it was first released, then dropped to $799 eventually.
The new Sony DPT-RP1 adds a higher resolution 2200 x 1650 E Ink screen, with 207 ppi (up from 150 ppi).
The new model also has a faster processor, using a Marvell IAP140 quad-core chip.
Other features include Wi-Fi, Bluetooth, 16GB of storage space, it has a capacitive touchscreen for finger touch as well as stylus touch for accurate writing using the included pen.
Of course the DPT-RP1 only supports PDF format but that's its specialty, while other 13.3-inch devices like the Onyx Boox Max support a multitude of formats as well as Android apps, but it has some features the Onyx lacks, such as finger-friendly capacitive touchscreen.
Digital Paper Overview Video