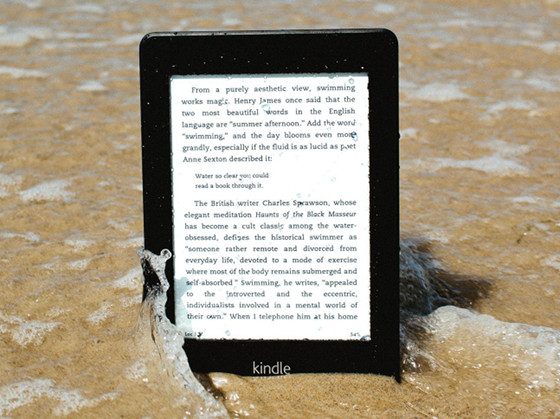 Last month a rumor about a new waterproof Kindle surfaced online along with a questionable photo of the alleged new Kindle.
At this point the rumor is starting to look less likely with each passing day. Unless Amazon announces a new Kindle within the next couple of weeks, then it's not likely to happen anytime soon.
The thing with a waterproof Kindle is it makes no sense whatsoever to release it after summer.
If Amazon has plans to release a waterproof Kindle they would most certainly do so at the start of summer when demand for a waterproof device is at its peak.
Waiting until fall to release a waterproof ereader just doesn't make sense when people are going to the beach and pool all summer.
Another factor that makes a new Kindle seem unlikely anytime soon is the fact that Amazon just announced a new Echo Show device and two new Fire tablets over the past two weeks, so that makes it seem like new Kindles aren't part of the plan or they would've announced them already.
Furthermore, Amazon just introduced new Kindle Travel Bundles two weeks ago for the Paperwhite, Voyage, and Oasis, which makes it seem very unlikely that those Kindles are going to get replaced anytime soon with a new model.
Granted a waterproof Kindle could be branched off into its own separate line but offering five different 6-inch Kindles would just be ridiculous considering all the overlapping features.
I hope Amazon releases a new waterproof Kindle for summer but the odds aren't looking very promising at this point. That leaves Waterfi Kindles as the only option for waterproof Kindles, and they aren't cheap.