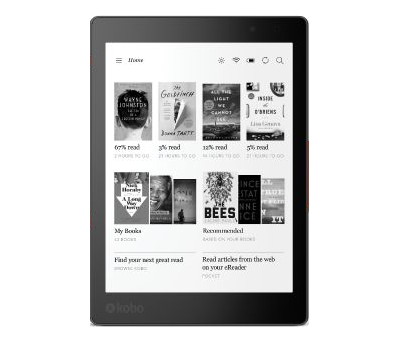 Kobo started to introduce a new home screen layout a few firmware updates ago, and with the last update they made the new home screen mandatory for everybody that updates.
Some people like the new home screen and some people don't. Opinions are split, according to a poll at MobileRead, with about 46% in favor of the new home screen and 54% not.
What do you think of the new Kobo home screen?
Some folks point out that it's just an excuse for Kobo to put ads on it to buy more ebooks from them.
That's a sore subject for some because Kobo specifically states on the descriptions for their ereaders that there is "no advertising", subtly taking a shot at Amazon's Kindles with special offers that have ads on the lockscreen and homescreen, but when Kobo is adverting recommended ebooks on the homescreen there's not much of a difference.
Last year Amazon updated the home screen on Kindle ereaders and lots of people complained (myself included) about how it made the home screen look like one big advertisement for buying more stuff from Amazon.
But at least Amazon made the new home screen optional. If you don't like it you can turn it off in settings. Unfortunately Kobo doesn't give us that option with their new home screen layout.
Personally I like the old home screen better. At least I had a bit more control over it. You could dismiss tiles (sections) you didn't want to see, and it provided quick links to things that you used regularly.
The new home screen and menu layout seems to make everything require more taps to get stuff done, and I don't like how things that I'm not interested in can't be removed, like the Pocket web articles section at the bottom right.
One thing I do like about it is you can choose to view your library of books from the menu so you can pretty much avoid using the new home screen entirely if you don't like it.
So what do you think of the new Kobo home screen?