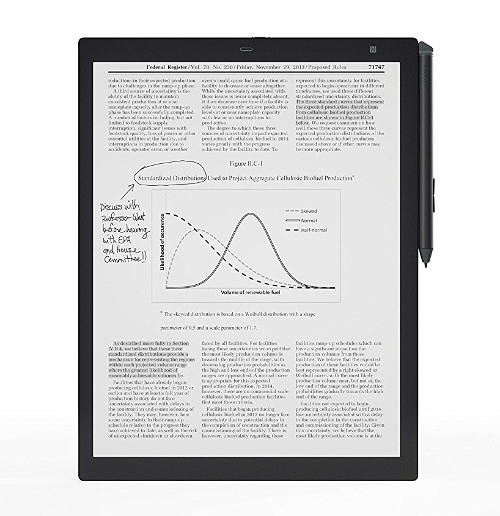 One of the first in-depth reviews of the new Sony DPT-RP1 was uploaded to YouTube today.
The video is in Japanese so I can't understand a word of it and the translation feature on YouTube is so comically inaccurate that it's no help, but the video is very long and shows a lot of the features of the new Sony DPT-RP1 along the way.
The video is also a comparison review between the 1st gen model, the Sony DPR-S1.
The Sony DPT-RP1 is a 13.3-inch E Ink ereader that supports PDF format.
It has a new higher resolution 2200 x 1650 E Ink Carta screen that helps make the text and ink look darker and clearer (see video at 14:55).
It also sports an upgraded quad-core processor that gives it a noticeable speed boost, especially with larger PDFs (see video at 4:20).
The new model has a rechargeable stylus pen. Plus the stylus can attach to either side of the DPT-RP1 when not in use so you don't lose it. Stylus writing looks pretty quick and accurate on the DPT-RP1 (see video at 17:20).
The Sony DPT-RP1 officially gets released in Japan on June 5th and the US on June 20th. It's currently available to pre-order from Amazon and B&H for $699.
Sony DPT-RP1 Review and Comparison