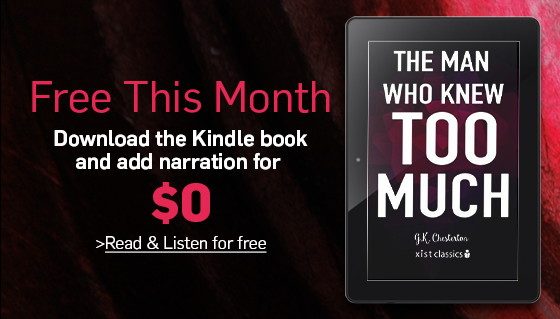 Amazon and Audible have updated their free audiobook offering for the monthly Whispersync for Voice freebie.
Throughout June they are giving away The Man Who Knew Too Much by Gilbert Keith Chesterton.
Like usual the ebook is free but once you "buy" it the audiobook companion automatically becomes free as well.
You can get both for free at the same time by checking the "add Audible narration" box below the buy button for the ebook.
If you already have the ebook you can grab the free audiobook from that page or you can use Amazon's Matchmaker tool to find audio companions for ebooks that you've already purchased.
The audiobook version of The Man Who Knew Too Much is narrated by B. J. Harrison and it has a runtime of 6 hours and 21 minutes.
Amazon and Audible having been giving away a free audiobook each month along with a free classic Kindle ebook to help promote their Whispersync for Voice feature that syncs Kindle ebooks and Audible audiobooks together so that you can easily switch back and forth between listening and reading.
You don't need to own a Kindle to get the free audiobook. You just need an app, either a Kindle app or an Audible app to listen to the audiobook. Here's more information about how to use Amazon's Whispersync for Voice and immersion reading features.
Here's the description for this month's free audiobook:
Horne Fisher is extremely well connected. The plans of prime ministers, foreign ambassadors, and chancellors are matters of table conversation – usually because these people are dining with him. And when a man so well connected is also a brilliant detective, all sinister motives and plots systematically unfold.

Whether it is a case of police corruption, or a war with Sweden, Horne Fisher can always solve it. But Horne Fisher is also a philosopher, and not a policeman, and the murderer is seldom punished. G. K. Chesterton, author of the Father Brown stories, here introduces another detective outside the realm of conventional law enforcement.