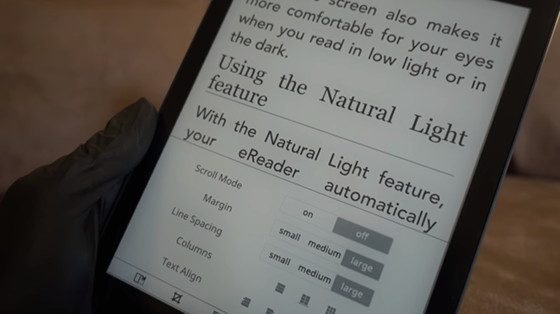 I came across a video on YouTube that shows an example of KOReader running on the Kobo Aura One.
It's the first video I've ever seen that actually shows KOReader, an alternative open-source reading app, on a Kobo ereader. I tried installing it on a Kobo Touch once but it wouldn't work so I didn't try it on the Aura One, but now I think I'm going to have to give in another shot.
The video doesn't show all the KOReader features, but it shows enough to be intriguing, especially some of the menu options.
The video is comparing the default PDF app with the reflow capabilities of KOReader on a Kobo Aura One.
The KOReader part of the video starts at the 3:50 mark (the video below is set to play from there).
As mentioned in my Kobo Aura One PDF review, the default PDF features are severely lacking. I don't think Kobo has made a single improvement to the PDF functionality of their devices in over 5 years.
Because of that, I find a 6-inch Kindle a much better option for PDFs than the 7.8-inch Aura One. But with KOReader installed it might be a different story.
After I get some other reviews wrapped up I'm going to have to try KOReader on the Aura One and see how it stacks up.
If you want to try KOReader on your Kobo, there's this install guide at MobileRead, and here's the official KOReader page at GitHub. It works with other Kobo ereaders too, not just the Aura One.
Kobo PDF Reader vs. KOReader Reflow