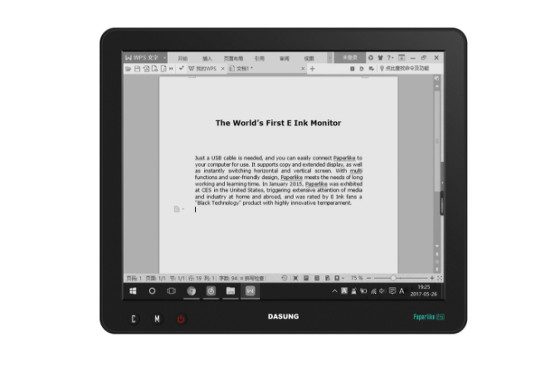 Dasung recently released a new version of their E Ink monitor called the Paperlike Pro.
It's designed to work as a secondary monitor for computers, and this new model adds an HDMI port for faster response times. It supports Windows XP and up, some versions of Mac OS X, and Linux Ubuntu.
The Paperlike Pro has a 13.3-inch E Ink screen. There's a Pearl version and a Carta model.
Currently the device is only sold in China and the specs are all written in Chinese so it's hard-telling what half of them mean, but you can find a list of them on the Dasung website.
Dasung uploaded a new video to YouTube today and the speed of the Paperlike Pro is indeed impressive. It's definitely faster and has less ghosting than using an E Ink ereader to mirror a computer's display like we recently saw with the Onyx Boox Max.
They say the Paperlike Pro is faster than any ereader. They even claim the response is as fast as LCD. The monitor can play videos somewhat smoothly and web browsing looks better than you'd expect from E Ink. It may in fact be the fastest E Ink device ever. What do you think?
DASUNG E Ink Monitor Paperlike Pro