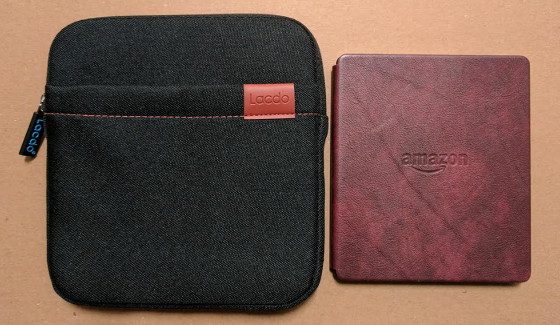 A reader recently sent in a tip (thanks, ABCruz!) about an alternative option for Kindle Oasis cases—USB DVD protective sleeves.
It turns out there aren't many options when it comes to protective cases for the Kindle Oasis.
Obviously it comes with its own unique charging cover, but it doesn't provide very much protection, especially since it doesn't even cover the back of the device.
You'd think there would be more protective cases designed specifically for the Kindle Oasis, but most companies just tend to lump it together with all the other Kindles.
The problem with that is the dimensions are different. The Oasis is more square in shape. It's a little shorter and wider than other Kindles.
Some of cases that say they fit the Kindle Oasis, like this blue sleeve, aren't wide enough because they design it based off other Kindle's dimensions.
One alternative is to search for USB DVD protective cases. They're more square in shape like the Kindle Oasis.
They aren't a perfect fit either—most are a bit oversized—but they can get the job done and they're cheap.
The one pictured in this post is a Lacdo case. It's waterproof and shockproof so it adds some extra protection over a typical Kindle case, and it's only $9 delivered.