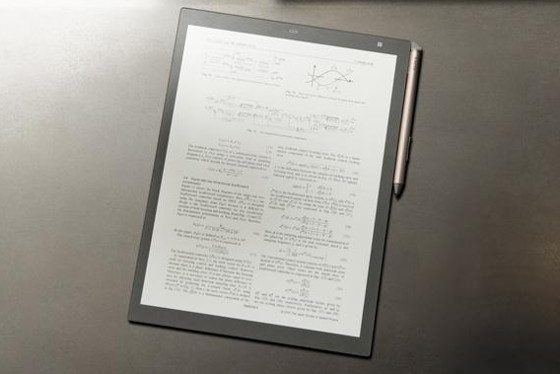 I've had the Sony DPT-RP1 for six weeks now and I'm still amazed every time I pick it up by how thin and light it is—the device has such a unique feel to it—and the large 13.3-inch E Ink screen has an addicting quality that makes you want to use it all the time.
The software on the Sony DPT-RP1 still needs some improving to add more features, but the hardware is outstanding.
The quad-core processor is zippier than typical processors used with E Ink, and writing with the stylus feels surprisingly similar to writing on real paper.
One key to the lightweight design is the flexible plastic-based E Ink screen.
Normally E Ink screens use glass backplanes that are heavier and can easily crack.
Often plastic is considered cheaper and inferior to glass, but not when it comes to E Ink screens. Plastic is the way of the future. It weighs much less than glass and is virtually shatterproof.
Hopefully someday soon smaller ereaders will start using similar hardware components as the Sony DPT-RP1. Now every time I pick up the Kobo Aura One I wish it was more like the Sony. It has a similar feel of thinness (it's only 1mm thicker) but the glass screen adds a lot of extra weight.
A 6-inch model with the a plastic-based screen would probably weigh less than 100 grams, or about half that of the current Kindle Paperwhite, and the flexible screen would help make it more durable.
Sony is known for being a pioneer in the field of E Ink readers. Perhaps the Sony DPT-RP1 is a glimpse at what mainstream ereaders will be like in a few years. Super lightweight, much faster, more durable.