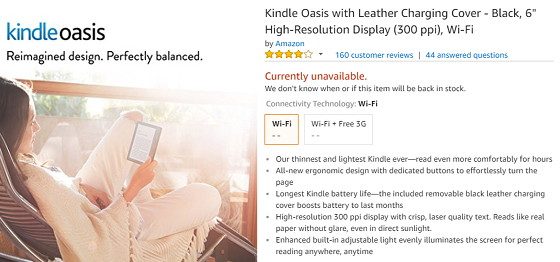 Over the past several weeks there's been a noticeable decline in availability for the Kindle Oasis across multiple regions.
Some Amazon websites don't sell it at all anymore. Like in Canada on Amazon.ca it's listed as "currently unavailable", with a note that says, "We don't know when or if this item will be back in stock."
They also removed it from the top banner so it doesn't look like they plan on getting anymore anytime soon.
It's a similar situation with Amazon UK. Most versions of the Kindle Oasis are unavailable, except one Wi-Fi model that says it will be back in stock next week.
Even on the Amazon's main US website stock for the Kindle Oasis isn't what it used to be. For instance, if you want one without ads the black cover is the only option, and they have none without ads and 3G.
Part of the problem with the Kindle Oasis is the simple fact that there are too many variations of it. In total there are twelve different versions of the Kindle Oasis sold in the US. There are three colors to choose from, with the option for Wi-Fi or 3G + Wi-Fi, and each is available with ads and without.
Perhaps Amazon is just whittling down the options to carry only the best selling models, but with availability becoming scarce in multiple regions it seems more likely that the Kindle Oasis is on the way out.
The Kindle Oasis shortage is one possible sign that a new Kindle could be getting released for the Kindle's 10th anniversary coming up in November. Hopefully so!