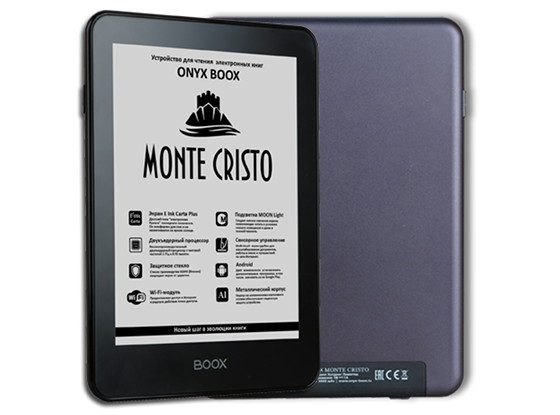 A company called Ectaco that used to be known for selling Jetbook ebook readers has recently started selling various Onyx Boox ereaders on Amazon.
The odd thing about it is they're selling the versions that are generally sold in Russia. For the most part they're the same exact devices sold elsewhere but instead of having names based on model numbers like the N96 and C67, they have names like Onyx Boox Prometheus and Onyx Boox Vasco da Gama.
The problem is that Ectaco is charging way more for these ereaders than the same exact devices are selling for from other retailers.
Given that fact, they're hardly worth mentioning, but there's one model called the Onyx Boox Monte Cristo 2 that looks interesting.
It's kind of like a Kepler Pro lite. It has the same premium design as the Kepler Pro with the flush glass screen and aluminum alloy casing, but it lacks Bluetooth and it has 8GB of internal storage with 512MB or RAM instead of 16GB with 1GB of RAM. Plus the back is blue instead of gold.
It has a 6-inch 1442 x 1072 (300 ppi) E Ink Carta screen with a frontlight and capacitive touchscreen. It has a dual-core 1GHz processor, a 3000 mAh Polymer Li-ion battery, ASAHI safety glass, and a microSD card slot for expansion.
As far as software it runs Android 4.2 and comes with Google Play pre-installed to install apps. It also supports a variety of formats, including ePub, PDF, DjVu, TXT, HTML, RTF, FB2, MOBI, CHM, PDB, DOC, DOCX, PRC and others.
At $229, the Onyx Boox Monte Cristo is priced kind of high for a 6-inch ereader, especially when the Kepler Pro is priced at $207 at Banggood, but if the price ever comes down it could be a nice option.