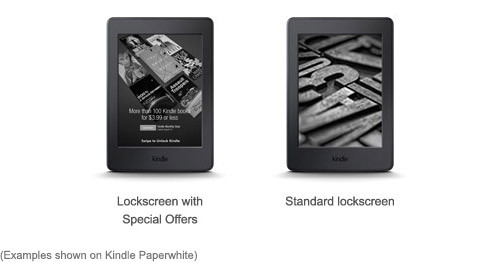 One of the most annoying things about Kindles is the fact that Amazon insists on placing advertisements on the homescreen and on the lockscreen.
You can pay an extra $20 to get rid of the ads so it's not really a big deal, but the fact that Kindles come with advertisements at all is kind of absurd when you think about it.
Could you imagine if you had to manually close an ad window every time you turned on your computer before you could use it, or your car?
At the very least Amazon should stop putting advertisements on their more expensive models. It's absolutely ridiculous to sell the 3G Kindle Oasis for $360 with ads.
Selling a super cheap Fire tablet for $49 with lockscreen ads is one thing, but including ads on a $200-$360 Kindle just seems needlessly greedy.
The most annoying thing about the lockscreen ads is the fact that it forces you to swipe the screen to turn the Kindle on.
It's a two step process. You have to hit the power button, then swipe the screen. It's pointlessly redundant. I can see how lockscreens on tablets and phones can be useful (I always turn them off) but on ereaders the concept doesn't make sense. Other ereaders don't make you swipe the screen to turn them on.
Luckily there is a workaround, but it takes more time to power down. If you hold the power button for 6 seconds to turn off the Kindle, it goes to a blank screen instead of an ad, and then when you hit the power button it takes you straight back to reading, no pointless swiping action or ad viewing required.
No other ebook readers come with ads. Only Kindles. Kobo tried to copy the idea briefly with an ad-supported Kobo Touch but it didn't last long. The whole thing started back in April of 2011 when Amazon released a Kindle 3 with Special Offers for $114.
It gives Kindles an unfair advantage when comparing with other brands because most people see the lower price and think the Kindle is cheaper but in reality it costs $20 more to remove the ads so that has to be added to the equation. Like right now the Kindle Paperwhite is on sale for $99 and that sounds better than it really is because it's actually $119 if you don't want ads, but many people probably don't realize what "Special Offers" means until they start getting annoyed by the advertisements every time they want to read.
When other companies like Kobo and B&N put their ereaders on sale for $99, that's a legitimate $99 price. But Amazon gets away with faking it all the time because they never put the Paperwhite on sale for $79.
It would be better if they just had the option to turn on and off lockscreen recommendations. Make it feature, not something that you have to pay $20 to remove.