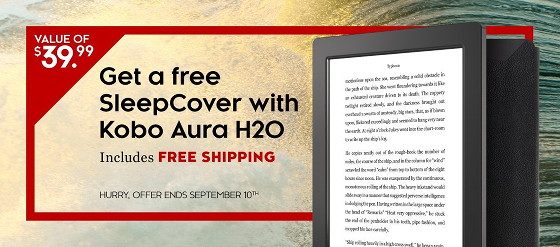 Kobo has some sales going on this weekend for Labor Day.
They have a list of ebooks on sale with prices up to 90% off. The ebook sale ends September 5th.
There's also a contest where they're giving away 100,000 Super Points. To enter you have to spend over $25. The contest closes September 5th as well.
Kobo is offering the same deals on the Kobo Aura Edition 2 and the 1st gen Kobo Aura H2O as last month.
The Kobo Aura 2 is marked down to $99. That's $20 off the regular price.
The Kobo Aura Edition 2 is Kobo's latest 6-inch ereader. It has a frontlight with a 212ppi E Ink screen, but it lacks the adjustable frontlight color the comes on the larger models.
The other deal is for the 1st gen Kobo Aura H2O. It comes with a free sleepcover that regularly sells for $39.
With the cover, the device is selling for $159, which is $20 less than the newer H2O. the 1st gen H2O is 90% the same as the second gen model but it's a bit larger and heavier and it doesn't have the adjustable frontlight color, but it does have the advantage of a memory card slot.
Kobo continues to have a listing for the older Kobo Aura HD as well. It's several years old now but for $89 it's not a bad price for a 6.8-inch ereader.