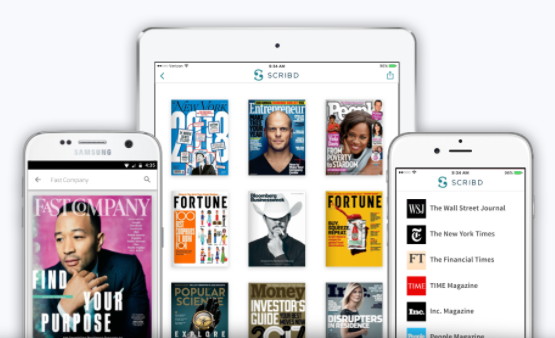 With Kobo launching their audiobook subscription plan last week, where customers can get one audiobook per month for $9.99, it has me thinking about how ebooks and audiobooks are treated differently.
Why is it that big publishers are fine with audiobook subscription plans but they continue to resist ebook subscriptions for the same exact titles?
A few companies offer ebook subscriptions, like Amazon with Kindle Unlimited, but they've failed to gain interest from big publishers.
Scribd is the one subscription service that has managed to get some titles from the likes of HarperCollins and Simon & Schuster, but with some restrictions.
Subscribers get unlimited access to a portion of Scribd's ebook library, but with the more popular titles users get 3 credits per month to exchange for ebooks and 1 credit for audiobooks.
It's somewhat similar to Kobo and Audible's audiobook subscription plans where you exchange credits for books each month, but there's one key difference. With Scribd you're just renting the ebooks and audiobooks for as long as you're a paying subscriber; you don't get to keep them. With Kobo and Audible you get to keep the audiobooks even after you cancel the membership.
So why don't publishers offer a similar subscription plan for ebooks where you can choose one or two per month from their catalog for a monthly fee?
Current ebook subscription plans only let you keep the books until you stop paying for the plan, and titles from big publishers are harder to come by than the same audio titles.
Why do audiobooks get treated differently in this regard?
Audiobooks are a lot more expensive than ebooks and yet you get to keep them when acquired through subscription plans like Kobo and Audible, so why isn't there an equivalent option for ebooks?