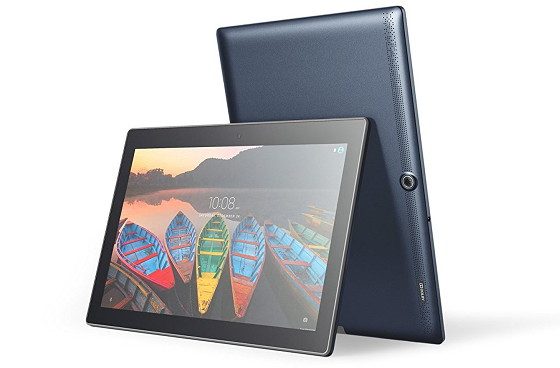 Earlier this week the 10.1-inch Lenovo Tab 3 Plus was selling for $199, and then Amazon announced the new Fire HD 10 on Tuesday for $149, and now suddenly the Lenovo Tab 3 Plus is selling for $149 too. Interesting timing…
Lenovo might have lowered the price to better compete with the new Fire HD 10, but it's just as likely they're clearing out remaining stock now that the Tab 4 line is out. But the problem with the new Tab 4 10 is it has a lower resolution screen, and it costs more at $179. Then the Tab 4 Plus with a full HD screen is way up there at $279, so it's not exactly strong competition for the Fire HD 10 at nearly double the price.
There aren't many 10-inch tablets with full HD (1920 x 1200) screens for under $200.
Most in that price range have 1280 x 800 screens with only 149 ppi, which is about as low as it gets on a tablet.
The full HD screens with 224 ppi look much better, especially when it comes to reading—text is sharper and less blurry.
The Lenovo Tab 3 Plus at $149 is pretty similar to the new Fire HD 10, but it has standard Android 6.0 that's more open and customizable than Amazon's Fire OS. Plus battery life is rated at a couple hours longer (12) and the cameras are much better quality (8MP front; 5MP rear). It also adds GPS and NFC support, along with an FM radio.
The new Fire HD 10 has some advantages of its own. It has twice as much storage space at 32GB, the microSD card support goes all the way up to 256GB, and the processor is newer and faster (MediaTek quad-core 1.8GHz vs 1.3GHz). Other than that the overall specs are pretty similar.
I've been using the Lenovo Tab 2 10 for the past couple of years and have had really good luck with it but the screen is cracked so I've been looking to replace it with a new 10-inch model. Then the new Fire HD 10 came along and I thought it would be a good option, but now I'm conflicted. The slower speed of the Tab 3 Plus is a concern but I like the standard Android OS a lot better than Fire OS. Too bad Lenovo priced the Tab 4 Plus so much higher…