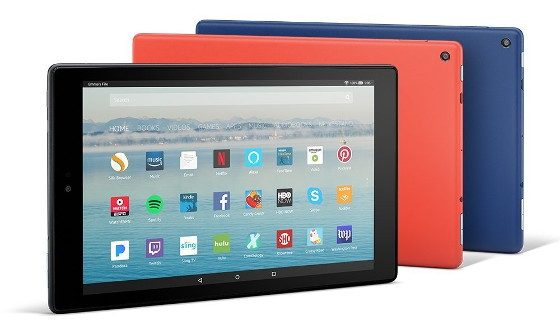 Today Amazon announced the upcoming release of a new 10-inch tablet to add to their lineup, and it actually looks like a pretty nice tablet for the price. They managed to shave a sizeable chunk off the price tag while still upgrading the specs—nice!
The new Fire HD 10 gets released on October 11th, 2017. They're accepting pre-orders for it right now.
It starts at $149 for the 32GB model and $189 for the 64GB version. Plus it has a microSD card slot for further expansion up to 256GB.
I like the fact that they upgraded the screen resolution on this model to support 1080p full HD. It has a resolution of 1920 x 1200 with 224 ppi—that's the highest ppi of any current Fire tablet (the previous Fire HD 10 only had 149 ppi).
They've also upgraded the processor to a quad-core 1.8GHz chip and they doubled the RAM to 2GB. It has twice as much storage space as the previous model too.
Battery life has been improved as well, up to 10 hours now, up from 8.
Other features include hands-free Alexa support, it has Bluetooth, dual-band Wi-Fi, it has dual stereo speakers with Dolby Atmos audio, and it comes with a full 1 year warranty unlike the other Fire tablets that only come with 90 days.
The only downside is the cameras have been downgraded (VGA front, 2MP rear) and the new model is heavier and thicker than the older version.
On a side note, the fact that a new Kindle still hasn't been announced is a little disconcerting, but there's still time…