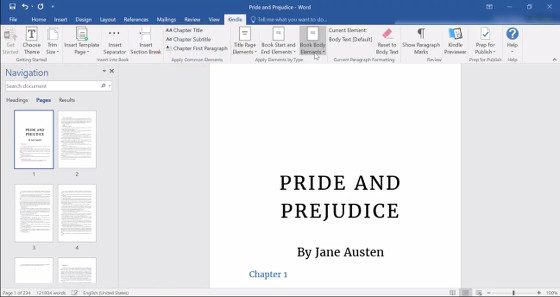 Awhile back KDP released a new manuscript and publishing tool called Kindle Create to help authors and publishers turn manuscripts into properly-formatted Kindle ebooks and paperbacks to offer through Kindle Direct Publishing.
Kindle Create is a standalone program for PC and Mac, and there's also a Kindle Create add-in for Microsoft Word (2010 and newer).
It adds a Kindle section to the top menu in Word with additional settings for various styling elements.
Basically it makes it easier to finalize a manuscript for publishing than having to go through and change everything manually.
There are different themes templates to choose from, and pre-formatted sample pages to use.
You can also preview exactly how the book will appear on different size phone, tablet, and Kindle screens.
The Kindle Create add-in for MS Word is still in beta but you can download and test it out by visiting this Kindle Create page. Currently it's only available for PC with Word 2010 and up, and it only supports English language books at this time.
Here's a video tutorial from YouTube showing how the add-in works.
Kindle Create Add-in for MS Word