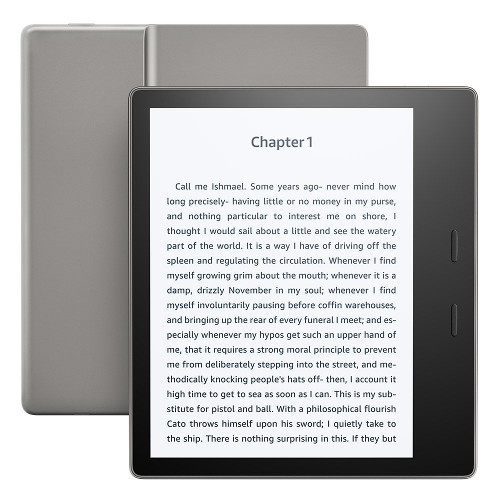 Amazon has just announced a new Kindle Oasis for 2017. It's available to pre-order right now for $249 and it gets released on October 31st.
The main changes with the new 2nd model include a larger 7-inch 300ppi E Ink screen, it's waterproof with an IPX8 rating, it has double the storage space with 8GB (and there's a 32GB model as well), it supports Audible content for audiobooks, and it includes an automatic brightness sensor.
They also ditched the integrated charging cover concept and have instead housed the entire battery within the device itself.
Because of that, the new Kindle Oasis is actually a bit cheaper than the original model, despite the larger screen and other upgrades.
They still sell a cover for it that doubles as a stand, but it doesn't have a battery in it and it's not required to purchase like before.
The overall size of the new Kindle Oasis is 159 mm x 141 mm and the tapered edge goes from 3.4-8.3 mm. It weighs in at 194 grams and battery life is rated at up to 6 weeks based on reading 30 minutes per day.
It has Bluetooth to listen to audiobooks, and there's a note that Audible support is coming to the 8th gen Kindle and the first Kindle Oasis in the coming months as well.
The new Kindle Oasis starts at $249 for the 8GB Wi-Fi model with ads. The 32GB models sells for $279. Like before there's the option to add 3G wireless but it only seems to be available on the 32GB model and it sells for $349.
The press release also mentions that there will be more font sizes with 5 levels of boldness settings. They added a new accessibility option as well that lets you invert the color to use white text on a black background. Other Kindles from the Paperwhite 2 and newer will be getting the new font choices and boldness settings as well in a software update that's going to start rolling out today.
The overall changes are pretty impressive; it's good to see that Amazon is still listening to what customers want in a new Kindle. We got a larger screen, audiobook support, more storage space, waterproofing, better font choices with boldness options, and a lower price. Not bad.
Kindle Oasis international links:
Amazon UK
Amazon Canada
Amazon Germany
Update: CNET uploaded a quick video showing the new Kindle Oasis in action. It turns out it has a faster dual-core processor as opposed to the single-core processor on all other Kindles (funny how Amazon doesn't mention that anywhere on the product page).
First Look Kindle Oasis 2