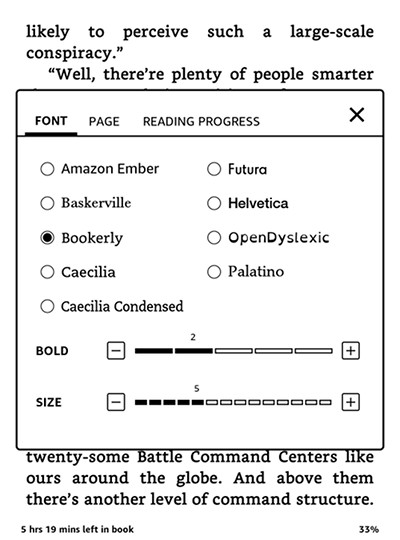 Yesterday when Amazon announced the new 7″ Kindle Oasis, the press release also mentioned a software update for current Kindles to add some of the new features that are going to be available on the 2nd gen Oasis.
One day later and the new update has officially arrived.
The new firmware version is 5.8.11 and it's available for all Kindles from the Paperwhite 2 and newer.
That includes the current and previous $79 entry-level Kindles, the Kindle Voyage, the 1st gen Kindle Oasis, and of course the Paperwhite 2 and 3.
The update adds three new features. There's a bold control with 5 levels of bold settings that work with all included font types, they added more font sizes (14 total), and now in-book search results show chapter headings within results.
The new search results and font controls even work with sideloaded books, but not always. I opened a USB-sideloaded AZW to test and there was a popup saying bold wasn't available on this book and recommend switching to Amazon Ember Bold. But bold works on all my sideloaded books sent through Amazon using a send-to-Kindle app or email.
The press release also stated that the current $79 Kindle and the 1st gen Kindle Oasis will be getting support for Audible audiobooks, but that isn't apart of this update. That'll probably take awhile yet.
Like usual the update will download and install automatically over Wi-Fi, but it might take a few weeks to get it that way. If you want to install the update now select your model from Amazon's Kindle Software Updates page to download the update file, and then follow these install directions.