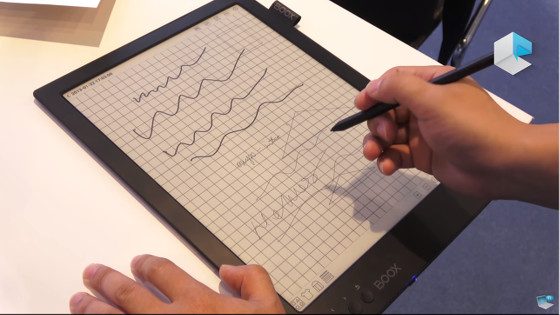 Onyx is demoing their latest new E Ink ereaders at the HKTDC Hong Kong Electronics Fair, and a website called Notebook Italia posted some videos showing the new devices in action.
Onyx has two new versions of the 13.3-inch Onyx Boox Max in the works, the Max 2 and Max 2 Pro.
Both have some nicely upgraded specs and the software has finally been updated to Android 6.0, instead of Android 4.0 like Onyx's current models.
Among the upgrades, the Max 2 adds a micro HDMI port to use the device as an external monitor, but in adding that they removed the microSD card slot.
Instead of the single core 1GHz processor on the 1st gen Max, the 2nd gen versions have a quad-core 1.6GHz processor, and the RAM has been doubled to 2GB. The Max 2 comes with either 32 or 64GB of storage space, and the the Max 2 Pro comes with 128GB.
Both feature Wacom touchscreens that reportedly support 1024 levels of pressure sensitivity. They also have a built-in microphone, a speaker, Bluetooth, and a 3.5mm headphone jack for audio.
Onyx is working on new 9.7-inch models as well, called Boox Canvas, and there's the 10.3-inch Boox Note. The last video below shows the updated 9.7-inch model with a flush screen and lighter frame. For some reason they're making them with the same specs as the current N96, but they also plan to release upgraded versions next year with the same updated specs as the Max 2, along with Android 6.0.
They also have a new foot pedal to wirelessly turn pages, and a stand to use the Max 2 as a monitor.
Head over to the Notebook Italia website for more about the Max 2 and Boox Canvas. Onyx doesn't seem to have a specific release date set for anything yet, and there's no word on what the pricing will be.
Onyx Boox Max 2 and Max 2 Pro
Onyx Boox Max 2 as Monitor
Onyx Boox Canvas