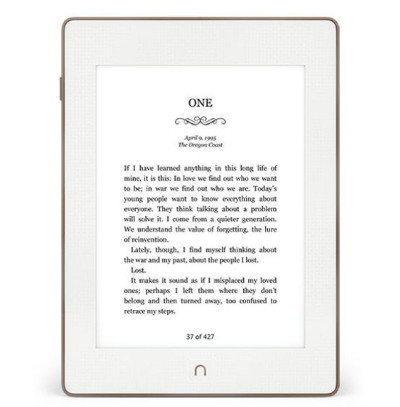 For at least a week now Barnes and Noble has stopped selling new Nook ereaders from their website.
They still sell Samsung tablets under the Nook name, of course, but when you click on the page for the Nook Glowlight Plus it just directs to refurbished Nooks instead of new ones.
You can select a new Nook from the drop-down list but the page just says that it is temporarily out of stock online.
At this point there's only the option to buy a refurbished Nook Glowlight Plus, not a new one.
That seems a bit suspicious considering the Nook isn't very popular anymore so the odds of it selling out are really low.
There's also the fact that new ones can be purchased right now on Amazon. So B&N doesn't have any in stock but a 3rd party seller on Amazon has plenty to sell, and for $10 less than B&N's price no less?
Something is up.
The Glowlight Plus is now two years old, and B&N usually replaces Nook ereaders after two years.
Is it possible that Barnes and Noble could release a new Nook soon?
At this point it seems just as likely for them to discontinue Nook ereaders altogether so it's hard to tell.
Awhile back Techcrunch posted an article proclaiming the Nook was dead and was going to be phased out. But then the article was deleted with no indication why, so that just adds to the mystery.
It appears the Nook is at a crossroads. No one really knows what B&N is going to do, and it seems like they don't know either. Perhaps the Nook Glowlight Plus is just temporarily out of stock like the website says. Or maybe a new version is about to get released soon. Or maybe B&N is just going to focus on selling ebooks on tablets and apps moving forward after they sell off the last remaining Nook ereaders. Either way it will be interesting to see how things play out.