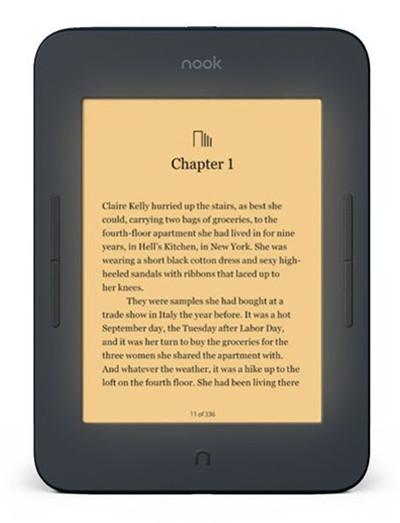 Barnes and Noble has a new Nook that's going to get released next week so all the murmurs of B&N discontinuing the Nook can be put to rest for another year or two.
The Nook Glowlight 3 is reminiscent of the original Nook Touch. It has a similar design with the larger bezels and it brings back the page buttons on each side of the screen.
The new Nook is available to pre-order right now for $119 and it gets released on November 8th.
Like the previous model, it has a 6-inch 300 ppi E Ink screen, but unlike the Glowlight Plus this model is not waterproof.
The main difference with the Nook Glowlight 3 is the fact that it has a frontlight with adjustable color temperature, like the Kobo Aura One and H2O.
It also adds a soft touch finish for better grip, as opposed to the slick aluminum on the Glowlight Plus. Battery life is rated at up to 50 days when reading 30 minutes per day. It has Wifi and a micro-USB port, but no memory card slot.
B&N's product page says it has 8GB of storage space, but then it states only 2.5GB is available for Nook content and sideloaded content. That doesn't make any sense. There's no way the system takes up 5.5GB. It probably has 6.5GB of usable space.
So there's nothing revolutionary about the new Nook by any means but it's good to see Barnes and Noble keeping the Nook around for all the loyal Nook customers out there. I kind of like the fact that they went back to the older design with the page buttons, and the adjustable frontlight color will make some folks happy.