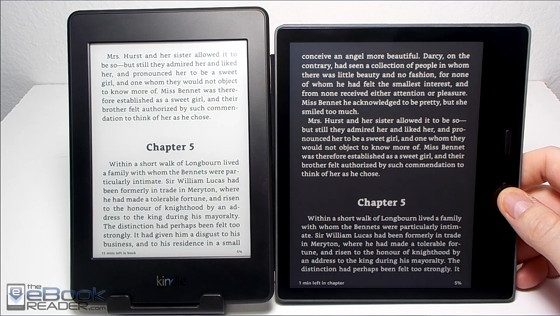 Yesterday I posted a video review of the new 7-inch Kindle Oasis, along with some first impressions, and today I wanted to put together a comparison review between the new Oasis and the Kindle Paperwhite.
There's no question the Kindle Paperwhite is still the best value Kindle of them all, but the Oasis adds some new features, a larger screen, and a more premium design with waterproofing.
For the most part the software features are identical on all current Kindles, and they all support the same ebook formats.
The Kindle Oasis adds a couple new accessibility features and Audible support but all the main reading features and font choices are the same.
When I first got the new Kindle Oasis I could have sworn it was faster to respond than the Kindle Paperwhite, but after doing some side-by-side tests both essentially operate at the exact same speed.
After the new Kindle Oasis was first announced, CNET said it had a dual-core processor as opposed to the single-core processor on other Kindles, but there's been no conformation of that yet and with no noticeable speed difference between the Oasis and Paperwhite it makes you wonder.
Here's a list of the main differences between the new Kindle Oasis and the current Kindle Paperwhite:
Kindle Oasis 2 Differences
Larger 7-inch display with flush glass front (same 300 ppi E Ink Carta as 6-inch Kindle Paperwhite's screen).
Waterproof – IPX8 rated.
Audible audiobooks support.
Unique ergonomic design that's thicker on one end than the other.
Page buttons.
Auto-rotation sensor to switch between left and right handed reading.
8GB of storage space, with option for 32GB (Paperwhite has 4GB; there's a 32GB model too but it only sells in Japan).
Inverted text to use white text on a black background.
New display size setting to increase interface text size and some images.
Bluetooth for connecting speakers and headphones.
Light sensor automatically adjusts frontlight brightness based on ambient lighting conditions (can be turned off).
The frontlighting is more even with 12 LEDs compared to the Paperwhite's 4 LEDs, and the light can be completely turned off unlike the Paperwhite's light that remains slightly on at the lowest setting.
Nightlight mode in settings to gradually decrease screen brightness as your eyes adjust to the dark.
Despite the larger size, the Kindle Oasis weighs 11 grams lighter than the Paperwhite (194 grams vs 205 grams).
The cellular model uses 4G LTE instead of 3G (in the US).
New storage management option in settings.
Price: The Kindle Oasis 2 starts at $249 for the 8GB model with ads and the Kindle Paperwhite starts at $119 for the 4GB model with ads, and it sometimes goes on sale for under $100.
Kindle Oasis vs Kindle Paperwhite Video