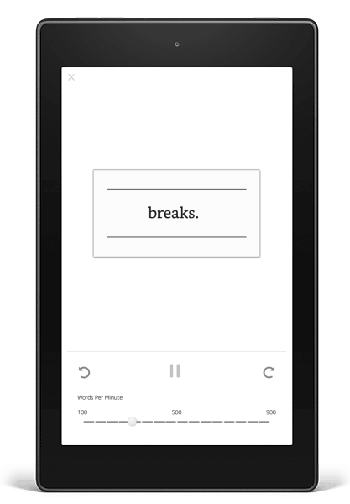 A couple years ago Amazon introduced a new feature on Fire tablets and the Kindle Android app called Word Runner that's a completely different way to read.
Word Runner only shows one word at a time on the screen. You just keep your eyes focused on the center of the screen as the words change on their own.
You can control the speed of the words and scroll back and forth by swiping the screen if you miss something.
It's a really unusual way to read. It's supposed to make you read faster and help build up your reading speed.
At the end of each chapter it shows results for how many words per minute you can read so you can challenge yourself to read faster.
I tried Word Runner when it first came out but I didn't feel the need to use it again after that, and I never hear anything about people using Word Runner since.
Does anyone use this feature regularly? If so has it helped improve your reading speed? What about reading retention?
Kindle Word Runner