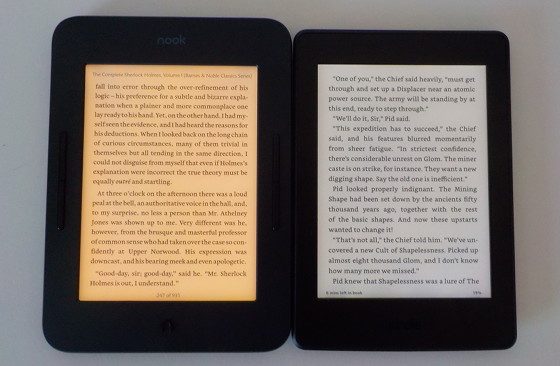 Now that Barnes and Noble has released a new Nook, some people are wondering how it stacks up against the Kindle Paperwhite.
Both sell for the same price ($119, although the Kindle is $20 more without ads), and both are in the same mid-level class of ereaders as far as hardware is concerned.
It feels kind of strange to compare the Nook Glowlight 3 to the Kindle Paperwhite 3 because the latter seems like it's been out for half a decade now.
In fact the Paperwhite has been out that long, but the 3rd gen model was released in July 2015 so it's not quite that old yet, but it is due for an update.
Barnes and Noble updates their ereaders about every 2 years. The Nook Glowlight 3 kind of goes back to its earlier Nook roots in terms of design.
On the other hand the design of the Kindle Paperwhite has remained unchanged for over 5 years; it gets slight hardware upgrades every couple of years instead.
Both devices have 6-inch 300 ppi E Ink Carta displays, and both have frontlights, but one of the main differences between the two is the fact that the Nook's frontlight can be adjusted from a cool blue to a warm orange color.
The Nook Glowlight 3 also adds two sets of page buttons on each side of the screen, along with a "N" button below the display to go to the homescreen.
The Kindle Paperwhite doesn't have any page buttons, just a capacitive touchscreen. One advantage with that is it supports pinch-zooming, whereas the Nook's infrared touchscreen does not, and it's indented farther for the sensors.
The Nook has twice as much storage space as the Kindle Paperwhite with 8GB, but only 1GB can be used for sideloaded content. Neither has memory card slots.
Both have WiFi and micro USB ports for charging and transferring content, and both have similar battery life claims.
The Nook supports ePub and PDF formats, including Adobe DRM.
The Kindle supports MOBI, PRC, PDF, TXT, KFX, AZW, and AZW3 formats, and others through Amazon's conversion service.
The Kindle Paperwhite has several software-related advantages. Generally it's faster and quicker to respond. And it adds extra features like Word Wise, X-Ray, there's a vocabulary builder, landscape mode, notes are exportable, it has a basic web browser, you can use custom dictionaries, search Wikipedia, and you can easily email and send documents and ebooks wirelessly. PDF support is also more advanced on Kindles (Kindle Paperwhite PDF review).
The Nook Glowlight 3 runs Android 4.4, but it's closed off from installing apps or customization. However, like usual there are workarounds. Some folks at XDA have already rooted the new Nook and found a way to install apps without rooting.
Video Review: Glowlight 3 vs Paperwhite 3