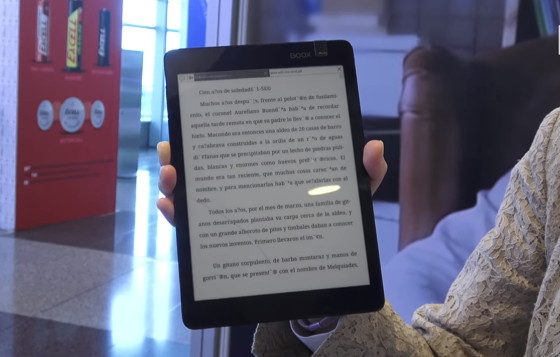 Onyx has another new ebook reader in the works, an 8-inch model called the Onyx Boox Nova.
Onyx comes out with more ereaders than you can keep track of, sometimes with a half dozen different variations of the same model, but this one has a couple of interesting things going for it.
Apparently it's plastic-based so that would help make it feel lighter. Hopefully she's talking about the screen because that would be the next big step for smaller ereaders—plastic screens are lighter and more durable.
The device is expected to run Android 6.0 like Onyx's newer larger-screen ereaders.
The screen appears more reflective than usual, but it's just a prototype at this point so it's hard-telling what the final product will be like.
They expect the Onyx Boox Nova to be available toward the end of the 1st quarter in 2018, and they may start a crowd funding campaign for it in early 2018.
Onyx Boox Nova