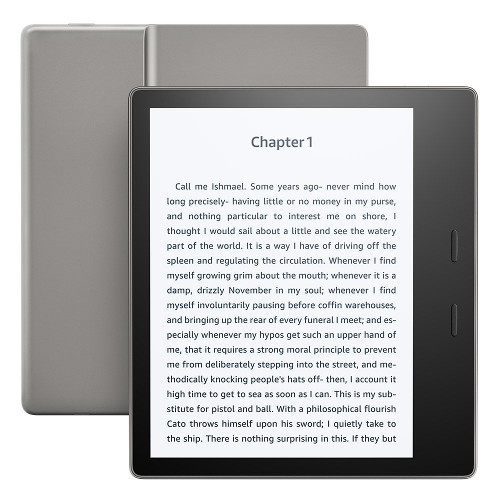 Here lately a number of people have been asking about the battery life on the new Kindle Oasis 2, but I'm not quite sure what the answer is, even after several weeks of using the device.
My problem is I have too many ereaders in use at the same time to get an accurate feel for battery life.
I read on the Kobo Aura One for awhile and then get bored with a book and switch over to a different title on the Kindle Oasis.
Then I read on it for a few days before switching to something else.
I've been trying to use the Nook Glowlight 3 since I was supposed to post a full review a month ago but still haven't gotten around to it (I like the Nook but it's no match for the other devices I have around).
Amazon says the battery on the Kindle Oasis 2 will last up to six weeks per charge when reading 30 minutes per day with wireless turned off and the frontlight set at ten.
That's the same exact battery life claim as the Kindle Paperwhite 3, so in theory they should be about the same.
Having wireless turned off definitely has a big impact on battery life, so lots of people keep airplane mode turned on most of the time. The only problem with that is it limits the use of certain features, like Wikipedia lookup and translations.
At first the battery went down pretty quick when I got the new Kindle Oasis, but it seems to have leveled out over time. It still seems like it might drain a bit quicker than the Kindle Paperwhite but without doing extensive, repeated tests it's hard to tell for sure.
I've gotten somewhat used to shorter battery life with the Kobo Aura One. Its battery lasts about 15 hours or so between charges. From my experience the Kindle Oasis 2 seems to be about the same.
What about you? What's your experience been like with overall battery life on the new Kindle Oasis 2?