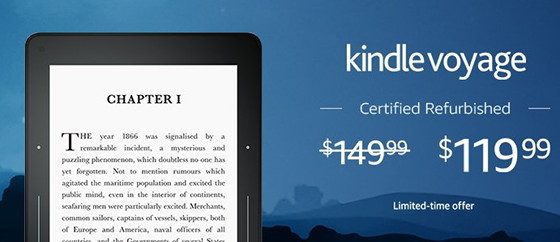 For the final week of Christmas shopping Amazon has some Kindle devices and Fire tablets on sale again.
The Kindle Paperwhite remains on sale for $99, and the 1st gen Kindle Oasis with 3G is $60 off. They've put some refurbished Kindles on sale as well, and Kindle Unlimited subscriptions are still 30% off for one year.
Woot has previous generation Kindles and Fire tablets available for cheap again too.
You can get a Kindle 4 for $15, a Kindle Touch for $20, and a 16GB Fire HD 8 for $29, among other deals.
If you missed it yesterday, the Nook Glowlight 3 is also on sale through tomorrow for $89.
Amazon Deals
Content
Up to 77% off Star Wars Graphic Novels
Kindles
Kindle Paperwhite – $99
Kindle Oasis 3G (1st gen) – $299
Refurbished Kindle – $44
Refurbished Kindle Paperwhite – $79
Refurbished Kindle Voyage – $119
Fire Tablets
Fire 7 – $39
Fire 7 Refurbished – $29
Fire HD 8 – $49
Fire HD 8 Refurbished – $44
Fire 7 Kids Edition – $79
Fire HD 8 Kids Edition – $99
Fire HD 10 Refurbished – $89 (Previous gen model)
Woot Deals (All Refurbished)
Kindle 4 – $14
Kindle Touch 3G – $19
Fire 7 (2015) 16GB – $19
Fire HD 8 (2016) 16GB – $29
Fire HD 8 (2016) 32GB – $49