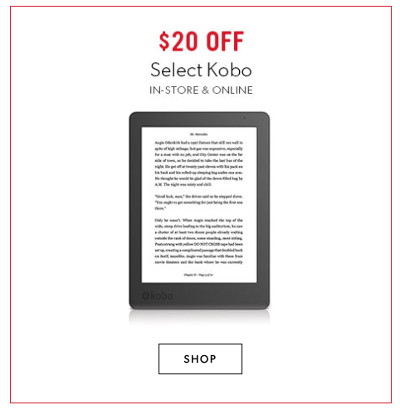 For Boxing week Indigo has the Kobo Aura and Kobo Aura H2O (both 2nd gen models) on sale for $20 off.
Kobo also has a new deal on their website where you can earn up to 12,000 Super Points with the purchase of a new Kobo ereader.
Both deals end on December 31st.
With the $20 off sale, the Kobo Aura H2O is priced at $179 CAD and the Kobo Aura is $109 CAD.
Indigo is based in Canada so the prices are in Canadian dollars, but you can order from the US and prices are quite a bit lower with the exchange rate, and their shipping is surprisingly fast (much faster than the estimate).
On Kobo's website the same devices aren't on sale but they're running a new promotion for US residents where you can get Kobo Super Points when buying a Kobo ereader.
Super Points can be used to purchase ebooks and audiobooks, but Super Points are only redeemable on select titles, and you need to cash in at least 2,400 Super Points per book.
During the promotion you can earn 12,000 Super Points with the purchase of a Kobo Aura One, 9,000 Super Points with the Kobo Aura H2O, and 6,000 Super Points when buying the Kobo Aura.
The 2nd gen H2O is currently sold out from Kobo's website so unless they get more stock in the next few days it's down to the other two models for this deal, and oddly the new Limited Edition Kobo Aura One isn't included in the offer at all.