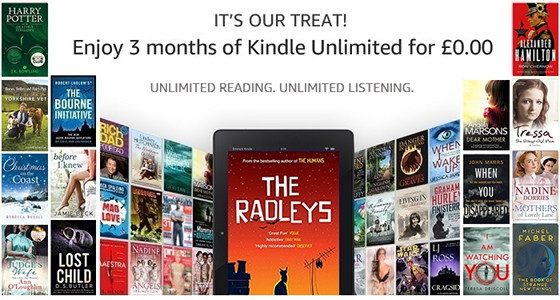 There are a couple of different promotions going on right now to get extended free trials on Kindle Unlimited, Amazon's ebook subscription service (some audiobooks are included too).
Amazon normally offers a 30-day free trail to try Kindle Unlimited, but right now there's a free 60-day trail available from Groupon.
It's for US residents only and requires a Groupon account to claim the offer, but it's free and can be given as a gift to someone else as well.
In the UK, Amazon is giving away a 3 month trial to Kindle Unlimited for free.
It's for new customers only and has to be redeemed by January 2nd.
In the US Kindle Unlimited normally costs $9.99 per month and in the UK it costs £7.99 per month.
Kindle Unlimited provides access to a library of over 1 million books, along with thousands of audiobooks and a rotating selection of magazines. You can read and listen to as much content as you want, with a cap of 10 titles downloaded at one time.
Kindle Unlimited 2 Month Offer – Groupon (US)
Kindle Unlimited 3 Month Offer – Amazon UK