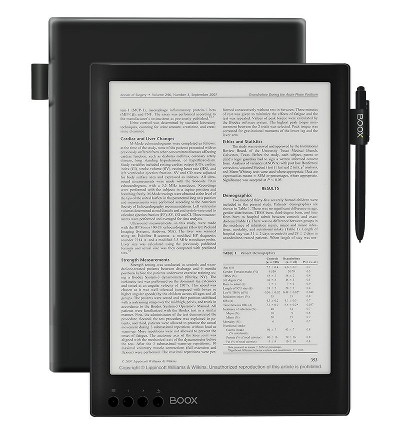 Here lately the Onyx International seller on Amazon has had the Onyx Boox Max Carta marked down to $599 with free shipping.
It normally sells for $699 at Amazon and $749 from Banggood so that's a pretty big discount.
The latest version, the Onyx Boox Max 2 sells for $799, but stock is still hit or miss with it.
If you want to save a couple hundred bucks it might be worth looking into the Max Carta. Both have the same 13.3-inch E Ink Carta screen, and both share most of the same PDF reading features.
The Max Carta is the second gen model. It doesn't have the HDMI port and monitor functions as the newer model, and it lacks a capacitive touchscreen, but it has a memory card slot unlike the newer version.
Either way at least the price is starting to creep down on some of these ereaders with flexible 13.3-inch E Ink screens, even if it is an older model. The Sony DPT-RP1 remains priced at $699, so $599 is about as cheap as they get at this point.