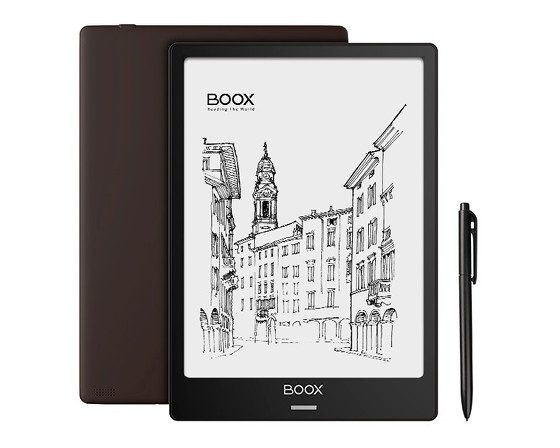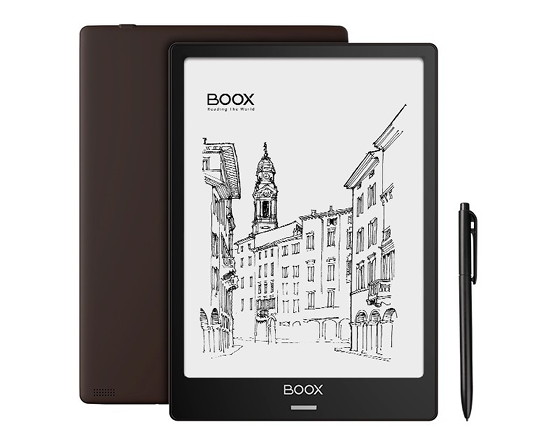 Onyx's latest new large-screen ereader is now set to launch, and they're showing it off at CES 2018.
With its 10.3-inch flexible E Ink Carta screen, the Onyx Boox Note is like a smaller version of the 13.3-inch Onyx Boox Max 2, except it lacks an HDMI port for screen mirroring and there are no page buttons.
The Boox Note supports finger touch and it comes with a stylus and wacom touchscreen for writing notes on the screen.
It has a 1.6GHz quad-core processor with 2GB of RAM and 32GB of storage space, but there is no memory card slot.
The screen resolution is 1872 x 1404, with 227 ppi. It does not have a frontlight.
Other features included Bluetooth support, plus it has WiFi, a USB-C port, along with a built-in speaker and microphone. It's 6.8mm thick and weighs about 355 grams.
It runs Android 6.0 and can install Android apps, but of course their functionality is going to be hit or miss with the E Ink screen. The native reading apps support PDF, EPUB, TXT, MOBI, HTML, FB2, and a number of other formats. The reading app offers a lot of features and they've also added a two-page mode where you can have a document and a notes page open at the same time.
The Boox Note is similar to the Remarkable tablet in size and price but it has upgraded hardware and more advanced software.
The Onyx Boox Note is currently up for pre-order from the Germany-based eReader Store. The pre-order price is €462, which equates to about $556 USD. It'll probably show up on Amazon soon too from the US distributors.
10.3″ Onyx Boox Note and 13.3″ Max 2