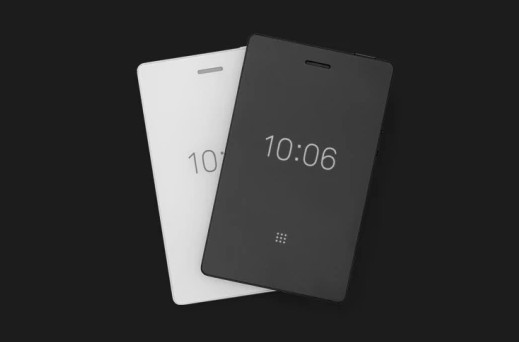 A crowdfunding campaign has launched for a new cellphone equipped with an E Ink screen called the Light Phone 2.
It's meant to be simple phone with a minimum amount of features in order to cut away at distractions. The plan is to include a few core tools like an alarm clock, messaging, basic maps, and playlists to listen to music.
For some odd reason they've elected to use an E Ink screen, despite the fact the phone appears to offer no ereading features whatsoever (that would be too distracting).
The irony of the "Light" Phone 2 is the fact that there's no mention of it having a light, so the E Ink screen will be easy to read outside but in a dark environment you won't be able to see anything. Clever!
I've seen this story before and it doesn't end well.
These type of crowdfunded E Ink devices almost never live up to expectations. After several delays getting the hardware shipped, the software usually falls short because they underestimate the immense challenge involved in creating an operating system that runs smoothly on an E Ink screen without a lot of lagging and visible artifacts.
The developers of the Light Phone 2 have no idea what they're getting themselves into. E Ink screens come with a lot of complications, both with hardware and software.
So in 1 year's time they expect to fully develop a new E Ink phone from the ground up hardware-wise, while at the same time writing their own custom software based off of Android, all while never having worked with E Ink before? Good luck with that!
And yet nearly 2000 gullible backers have already forked over more than a half million dollars for the Light Phone 2 in just a couple of days.
The device doesn't even exist yet. They haven't even shown a working prototype. At this point all it really is is an idea. How do people keep falling for these unproven crowdfunding campaigns?
If you would like to be disappointed by the Light Phone 2 when (if) it gets released after a lengthy delay, all you have to do is pony up $250. But don't say I didn't warn you!