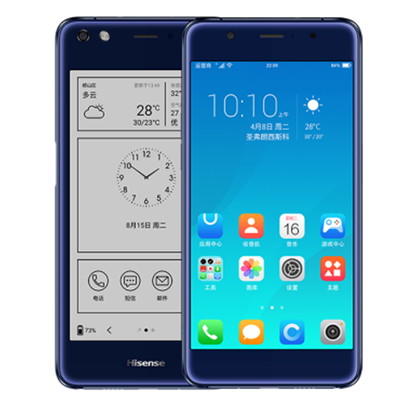 Awhile back Hisense released a second-generation version of their dual screen E Ink smartphone, called the Hisense A2 Pro.
Initially it was only available in a few regions such as China, but now it seems that Hisense is in the process of rolling it out to a wider range of markets.
The Hisense A2 Pro is currently available from AliExpress for $469, and Banggood has it listed as coming soon for $429.
The device runs Android 7.1 and it's powered by an octa-core Snapdragon 625 processor with 4GB of RAM and 64GB of storage space—plus there's a microSD card slot.
On the front it has a 5.5-inch AMOLED screen with 405 ppi and on the back it has a 5.2-inch E Ink screen with 212 ppi.
Other specs include a 16MP front camera and a 12 MP rear camera, it has Bluetooth, Wi-Fi, NFC support, USB-C, there's a 3.5mm headphone jack, and it has a 3090 mAh battery. It also has a fingerprint scanner and a number of sensors.
The video below from the 2018 Mobile World Congress shows the E Ink screen in action starting at about the 55 second mark. Unlike some E Ink phone combinations, it's good to see that the E Ink side of the Hisense A2 Pro isn't limited to just a few apps.
But I don't know what Hisense was thinking when they made the E Ink side of the screen so glossy. It's like Sony's early touchscreens on the Sony PRS-600/900 line.
Hisense A2 Pro (MWC 2018)