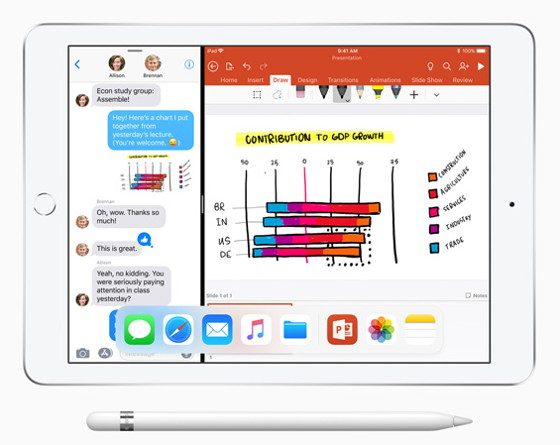 Apple announced a new 9.7-inch iPad today. It's a bit faster than the previous version and it comes with a few new features but overall not a lot has changed.
The main difference with the new model is the fact that it supports Apple Pencil, making it a viable option for tasks like sketching and taking notes. You no longer have to pay for the more expensive Pro models to get Apple Pencil support.
Apple is targeting the education market with this model, lowering the price to $299 for schools. For regular customers the price starts at $329 for the 32GB Wi-Fi model.
The Apple Pencil is sold separately for $99 ($89 for schools).
Logitech will reportedly be offering a cheaper option for $49, called the Crayon (no joke).
The Apple Pencil has sensors that measure pressure and tilt, with low latency for accurate note-taking and drawings. The iPad also has palm rejection so you can rest your hand on the screen while writing.
Note-taking devices are the theme for 2018, it seems. The 10.3-inch E Ink Onyx Boox Note was just released this past week, and there's the larger 13.3-inch Onyx Boox Max2. The Remarkable paper tablet was released last fall, and Sony is expected to release a new digital paper device soon as well.
With the new iPad offering Pencil support for much less than E Ink alternatives, will more people steer away from E Ink notebooks? There are also Chromebooks and Microsoft's devices. It's become a very competitive market.
The new 9.7-inch iPad is available to purchase now from Apple.