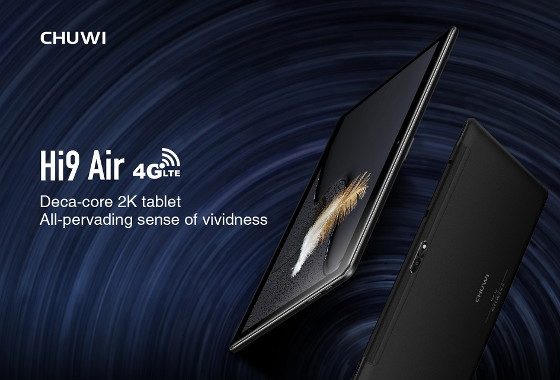 While it's hard to argue against the Fire HD 10 for $109 with the current sale for Amazon Prime members, there's a new 10.1-inch Android tablet up for pre-order that is possibly the better overall deal.
The Chuwi Hi9 Air tablet has a really nice screen and some impressive specs for the price.
The pre-order price at Banggood will likely change with more orders, but currently it sits at $199 with free shipping from China.
The Chuwi Hi9 Air tablet is expected to start shipping on April 19th.
It has a Helio X20 deca-core processor—yeah, ten cores.
It's going to need that kind of processing power to handle the 2K 10.1-inch IPS screen with a 2560 x 1600 resolution. That equates to 299 ppi, which is considerably higher than most 10-inch tablets, especially in that price range, making it a good option for ereading.
The Chuwi Hi9 Air also sports 4GB of RAM and 64GB of internal storage space, with a memory card slot to add an extra 128GB.
Other features include dual-band Wi-Fi, Bluetooth 4.2, it has a 5MP front camera and a 13MP rear camera with LED flash, it has a 3.5mm headphone jack, a micro USB port and an 8,000 mAh battery.
The tablet even supports 4G LTE, although with limited support in the US, and it has two SIM card slots. It also runs Android 8.0 Oreo. Not bad for $200.