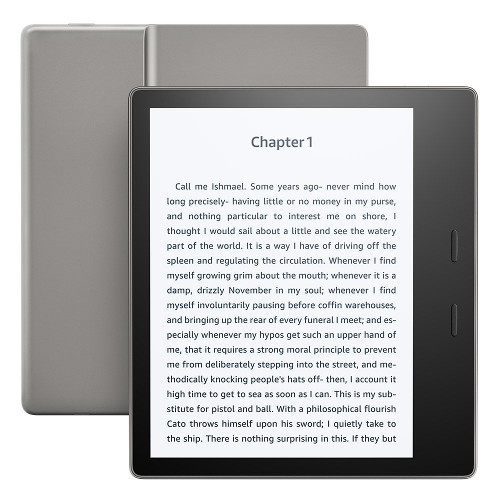 There have been quite a few complaints about battery life on the new Kindle Oasis 2 not being as good as the Kindle Paperwhite and other ereaders.
To me it doesn't seem like a big difference, but then again I almost never have the frontlight set higher than 12 on the brightness meter, which is halfway up.
I usually have the light set at 10 or less, and in the evening when I read the most I have it set at around 6.
That got me wondering if some of the battery life complaints are because people have the frontlight set at the higher end of the scale.
After all, the Kindle Oasis 2 has more LED frontlights than any other Kindle, with 12 LEDs total.
For some reason that's supposed to be a selling point when the frontlight on the Kindle Paperwhite has only 4 LEDs and its light looks just fine.
So with 3 times as many lights on the Kindle Oasis, that certainly has to have some negative impact on battery life, especially at higher brightness settings.
For those of you that have experienced lower than average battery life on the new Oasis, you might try experimenting with turning the frontlight down or off entirely (the frontlight on the Oasis can be turned off completely, unlike the Paperwhite) to see what kind of affect that has on overall battery life.
With the advancement of frontlights and higher resolution screens, battery life just keeps going down on newer ereaders. The 2nd gen Paperwhite had an estimated battery life of up to 8 weeks. When they released the Paperwhite 3 with a 300 ppi screen, estimated battery life went down 25%. At some point the number of lights and pixels does more harm than good.