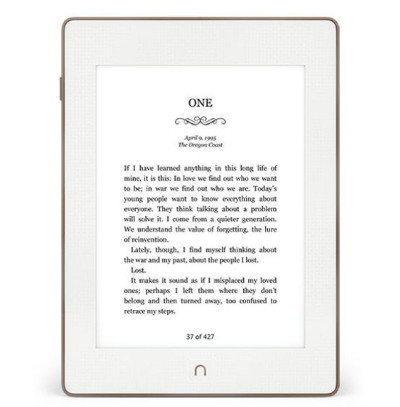 A couple days ago I posted about the latest Nook Glowlight 3 being available for cheap from a seller at Amazon with certified refurbished units selling for $79.
It turns out the same Nook is also selling for $79 with free shipping on eBay from a seller called Big Deals, a top seller with a feedback score of 98.5% with over 300k positive ratings.
Their $79 Nook Glowlight 3 is listed as "New other", meaning it could be open box, customer returns, or b-stock with minor defects.
Big Deals also has a couple of earlier Nook models available for cheap, both are listed as manufacturer refurbished.
The Nook Glowlight is selling for $44.99 with free shipping. It was Barnes and Noble's second frontlit model, the 4th gen Nook overall.
But the better deal is probably the Nook Glowlight Plus for $55.99 with free shipping. It was the previous Nook before the Glowlight 3. It has a more premium design with a flush glass front and metal back. It's also waterproof and dustproof and it has a 300 ppi E Ink Carta screen with a frontlight, so overall not bad for $56.
The crazy thing is it says they've sold 4,620 of the Glowlight Plus. Why such a high number for open-box refurbished Nooks?