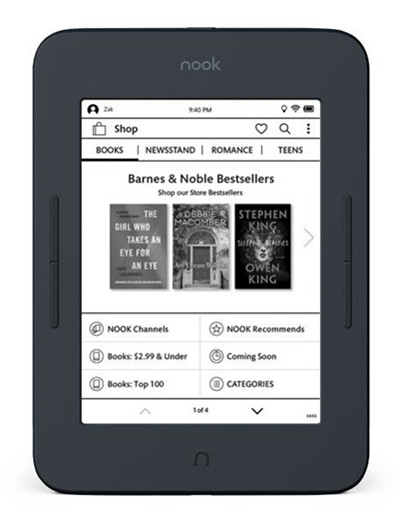 The Nook Glowlight 3 is Barnes and Noble's latest E Ink ebook reader, and while I was just talking about it yesterday in regards to how it could impact a new Kindle, it turns out refurbished Nooks are selling for cheap.
The funny thing is they are being sold at Amazon and not Barnes and Noble. Park Deals has the certified refurbished Nook Glowlight 3 available for $79.99, plus $3.99 for shipping.
The hardware is a good value for that price considering the adjustable frontlight color, the 300ppi E Ink Carta screen, the page buttons, and the 8GB of storage space.
Compared to the $79 Kindle you get way more for the money—it's not even close.
The Nook's software is quirky, however. I never actually posted a full review of the Glowlight 3 (just a first impressions review) because I could never use it for any length of time without getting annoyed by something (plus the new Kindle Oasis had just come out and I was more interested in using it).
My biggest gripe with the Nook's software is it suffers from a widows and orphans issue that drives me crazy. It frequently leaves large blocks of unused space at the bottom of the page. If you use Calibre you can correct the problem easily enough with sideloaded books but it's a hassle with B&N's books.
There are other problems as well, like covers not showing and shelves disappearing, and it seems to be hit or miss getting library books to work.
Nonetheless, it's a good inexpensive option for some use case scenarios. The Nook supports ePub and PDF formats, and it has Wi-Fi for downloading books from B&N. The Android software is also hackable for those that know what they're doing.