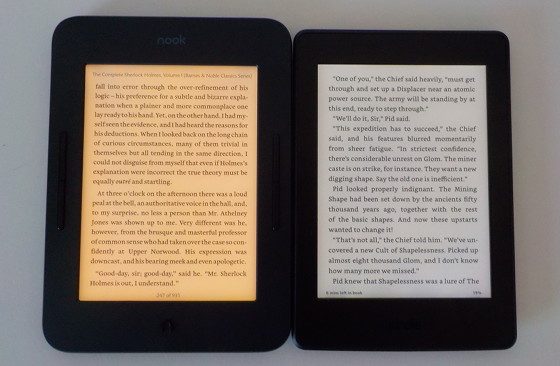 Here's a crazy idea. What if Amazon basically took the Nook Glowlight 3 and used it as inspiration for the next new Kindle?
The Nook doesn't get much attention anymore, but the Nook Glowlight 3 actually has some nice things going for it. If the Kindle name was on the front instead of Nook, I think it would be a lot more popular.
Granted the overall design of the Nook is on the bulky side, but it could be streamlined some more.
What makes the Nook Glowlight 3 better than the current Kindle Paperwhite is the extra hardware features.
First off, the Nook adds physical page-turn buttons on each side of the screen. Personally I much prefer ereaders with page buttons. It's just more comfortable for me to keep my thumb resting on a button rather than moving it to swipe the screen every 30 seconds or so.
Secondly, the Nook's frontlight color can be adjusted. It has the option to use a cool blue frontlight or a warm yellowish orange frontlight. The color can also be adjusted to mix between the two if you just want to soften the blue color a bit at night to add a touch of yellow.
Another slight advantage for the Nook is the fact that the screen looks a bit clearer and sharper than the screen on the Kindle Paperwhite. This is because the Nook uses an infrared touchscreen instead of capacitive. The latter slightly degrades the clarity of E Ink screens, as does any extra layer over the screen (including frontlights).
Lastly, the Nook Glowlight 3 has twice as much storage space as the current lineup of Kindles except the new Oasis now that the sideloading restriction has been removed.
Kindle software has a lot more going for it, but if I could run Kindle software on the Nook Glowlight 3 I would rather use it over the ever-popular Paperwhite.
Here's my Nook Glowlight vs Kindle Paperwhite comparison review from last fall for a closer look at the two in action.
If Amazon released a new Kindle with same features as the Glowlight 3, I'd actually be pretty happy with it.