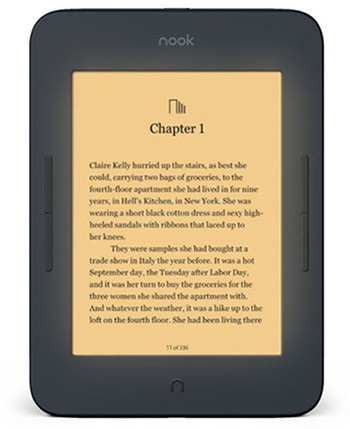 I'll be the first to admit that I've never been a fan of reading while using the night mode options available on some ebook readers and reading apps.
The thing is I just want ebooks to look like paper books for the most part, and I've never once read a paper book that had orange or black paper.
I also don't have any problem falling asleep at night so I'm not worried about blue light in the least.
But I can respect the fact that there are a number of people that do like using the night mode settings that some ereaders and apps provide.
Everyone has different preferences, and the great thing about ebooks is the various ways in which they can be consumed. You can customize layout and font size and font type to your liking, and in some cases you can set the color of the page and the text to your liking as well.
Of all the night mode options I've tried, I like the Nook Glowlight 3's take on it the best.
The Nook's frontlight can be adjusted from a cool bluish color to a warm yellowish orange tone. It's kind of like being able to switch from a white frontlight to a yellowish one. Most ereader frontlights tend to vary between those two colors, like with Kindles you never quite know what color of frontlight you're going to get.
The nice thing with the Nook Glowlight 3 is you can choose if you want a cool or warm frontlight.
Some other models have the same kind of feature, like the Kobo Aura One and 2nd gen Kobo Aura H2O. Their frontlight colors can be adjusted too but the color is more toward the darker orangish red spectrum. Luckily you can filter how much color you want with the middle settings, but it's still more of an orange hue than yellow, and the orange color is quite uneven on my Aura One (but they can vary a lot from one to the next).
I tend to like the yellowish tone on the Nook better. It's more paper-like in color, like aged paper. I find that I actually don't mind using the night mode setting; it's less obtrusive than similar features I've tried. It does help make the light seem softer and I can see how it would be useful at night. I'd still rather read with a whitish background but the Glowlight 3's take on night mode is surprisingly good, especially at lower brightness settings.