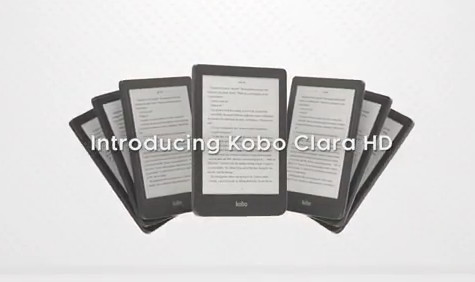 Kobo is expected to release a new ebook reader later this year called the Kobo Clara HD.
Yesterday one of Kobo's Canadian retailers, Chapters.Indigo, uploaded the first video on YouTube showing the Kobo Clara HD.
Unfortunately it's not a real video, more like a commercial with computer generated images, but it does reveal some interesting details about Kobo's upcoming new ereader.
Well, maybe not so much interesting as disappointing but at least it's something.
The Kobo Clara HD is another 6-inch ereader, but unlike Kobo's current model it has a Comfortlight Pro to adjust the frontlight color. One would also assume that it has a 300 ppi E Ink screen since they refer to it as HD, but that's never specifically stated in the video.
They also bumped the onboard storage space up to 8GB, but other specs are still unknown at this point.
The design is very basic, and unfortunately it lacks page buttons just like all other Kobos. I was hoping they'd do something different for a change but that didn't happen, and putting a large power button on the bottom edge is a questionable decision considering how easy they are to accidentally press in that position, especially when using a stand.
There's still no word on a release date and I'm not convinced that it's going to get released anytime soon (I thought they'd wait until around September) but I guess we'll find out soon enough.
Update: Sorry folks, the video got removed but there wasn't much to see anyway. Just picture the current Kobo Aura 2 with slightly rounder edges and the power button on the bottom instead of the back. It's what the Kobo Aura 2 should have been in the first place, instead of being the equivalent to the older Kindle Paperwhite 2 in terms of specs.
Kobo Clara HD Video